Place Setting & Descriptors
First thing upon being seated, place napkin in your lap
Work "out to in" with utensils
Hold beverages in stemmed glasses by the stem, not the bowl
(helps ensure hands do not warm the beverage)
No hats or gum at the table
Always say "please" and "thank you"
Remember to thank the host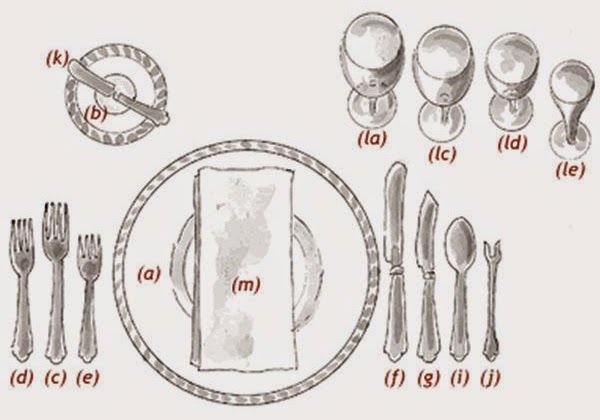 Service Plate or Charger
Butter Plate
Dinner Fork
Fish Fork
Salad Fork: If the salad is served after the entrée, the small salad fork is placed to the right of the dinner fork, next to the plate. If the salad is to be served first, and fish second, then the forks would be arranged (left to right): salad fork, fish fork, dinner fork
Dinner Knife
Fish Knife
Salad Knife (Note: there is no salad knife in the illustration): If used, according to the above menu, it would be placed to the left of the dinner knife, next to the dinner plate. If the salad is to be served first, and fish second, then the knives would be arranged (left to right): dinner knife, fish knife, salad knife.
Soup Spoon or Fruit Spoon
Oyster Fork: If shellfish are to be served, the oyster fork goes to the right of the spoons. Note: It is the only fork ever placed on the right of the plate.
Butter Spreader
Glasses: These are placed on the right, above the knives and spoons. They can number up to five and are placed in the order they will be used. The water goblet (la) is placed directly above the knives. Just to the right are placed a red (lc) or white (ld) wine glass. A sherry glass or champagne flute (le), to accompany a first course or for an opening toast, go to the right of the wine glasses
Napkin
Emily Post Top 10 Table Manners for Kids
Please and thank you are magic words. Use them every
day!
When you meet people, look them in the eye, say, "Hello,"
and smile.
Oops! You've bumped into someone. Do say, "Excuse me!"
Oops! You've just burped. Do say, "Excuse me!"
If you see someone who needs help, help!
When someone does something nice for you, say, "Thank
you."
When someone gives you a gift, send a thank-you note.
Chew with your mouth closed.
Take turns at home, at school, at the park, everywhere.
Be kind to the people who help you every day—the police
man, the lunch lady, the grocery clerk, everyone.
"Etiquette is the science of living. It embraces everything. It is ethics. It is honor."
– Emily Post
Emily Post Top Ten Business Etiquette Behaviors for Building Better Relationships
Be on time. Avoid doing "just one more thing:"
Classic and true: Use "Please" and "Thank you."
Always present yourself to represent your organization:
attire, attitude, effort.
Harness the power of the sincere compliment.
Fight demeaning behaviors or superior attitudes in yourself.
Take responsibility: apologize and have a solution.
Be prepared. Period.
Know that your actions outside of work affect you and
your organization.
Focus on etiquette for greetings, table manners, and work
space issues.
Embrace and use the principles of etiquette:
Consideration, Respect, and Honesty.
Tips for Making a Great First and Lasting Impression
Arrive approximately 5 minutes early, but no more than 10 minutes
Stand, smile and shake hands
Look the person in the eye
Get their name and give them yours (use last names upon first introduction)
Have a firm grip (but not bone crushing) and pump two to three times for the handshake
If wearing a name tag, make sure it is on your right-hand side lapel