Giving children the gift of etiquette is an essential life skill they will use every day!
It will help them build relationships, instill confidence and prepare them for all of the important moments they will encounter as they grow and enter the "real world" one day!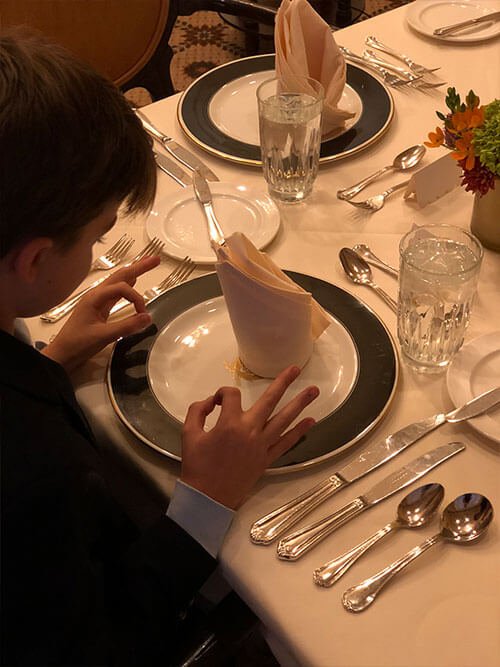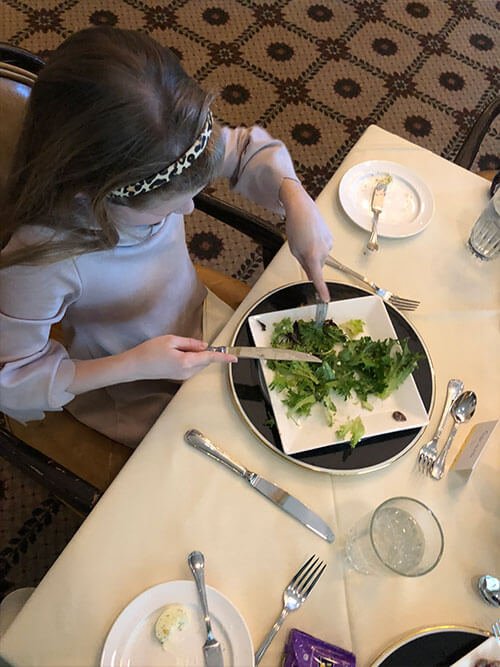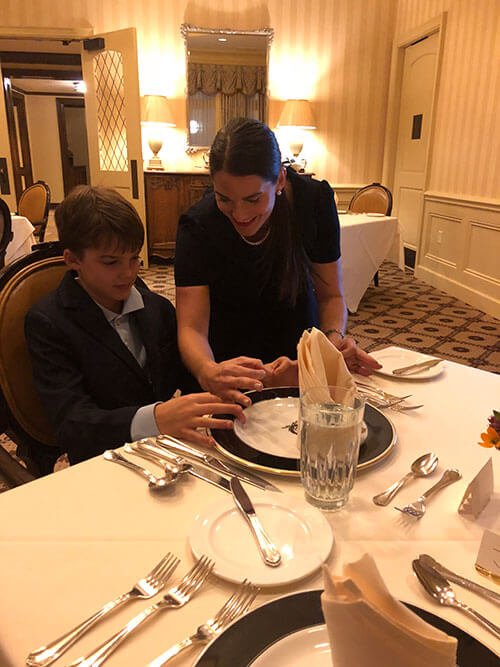 Dining Etiquette
During this 1.5-hour class, young ladies and gentlemen will learn the art of dining etiquette: from what to do when they first arrive with greetings, to table manners, to the art of the "thank you." (And yes, a mailed note is most certainly involved!) This class will cover all the nuances of excellent dining etiquette and is taught in the continental style over a 4-course dining event. This session is recommended for both young ladies and gentlemen!
Ages: 5 years to 18 years of age. Ages are not limited for private groups, and are open to any combination of ages. I welcome families, private groups and open classes.

Dates

: Typically conducted on Tuesday, Wednesday or Thursday evenings from 5:30 to 7 p.m. However, guests may schedule a Sunday evening on a mutually agreed upon date.

Location

: A local country club

Duration

: 1.5 hours

Includes

: A 4-course dinner including soup, salad, main entrée and dessert, and instruction.
Cost: $100 per participant.
Private sessions may also be arranged at a mutually agreed upon date for groups and organizations. CF Etiquette is also available to conduct dining courses at other locations based on the need of the group or organization.

Contact me to register for a course or schedule a dining etiquette class.
Middle School/High School Etiquette
Show your preteens and teenagers that manners aren't about being stuffy or old-fashioned! Manners can help you build and improve relationships and make impressions that last a lifetime. Manners can help you get ahead at school, at work, at home and even out on the court.
Heading toward high school? Looking at colleges? Now is the time to brush up on etiquette and know how to conduct oneself in person, and online.
Ages: 12 – 18 years.
Cost: $85 per participant.
Dates: Contact CF Etiquette for dates. This is a 1.5-hour course.
Includes:

Making a great first and lasting impression.
Protecting your online image.
Gracious behavior and the art of the "thank you".
Table manners and dining etiquette.

Contact me to register for a course or schedule a dining etiquette class.
Girl Scouts, Daisys,
Boy Scouts, Cub Scouts, etc.
Have a troop or scouting group?
Let CF Etiquette help with a class or with earning a social badge.
Any and all troop ages are encouraged!
We will cover valuable life skills including:
What is etiquette and why does it matter?
Making a first and lasting impression
Handshakes
The art of the "thank you"
Manners at the table/dining etiquette
Social skills
Consideration, respect, and honesty – the 3 principles of etiquette
The course duration is 45 minutes and the cost of the course is $75.
Contact me to schedule a course.

Tea Party Time!
Join us for a lovely morning or afternoon where we recreate a fancy tea party!
We will learn some new table manners and practice our etiquette while we "take tea."
This is a great 1-hour class for children, birthday parties or even a mother/daughter or mother/son opportunity!
Dates: Contact for pricing and to set up a group class!